Red Hot Chili Peppers tabs and chords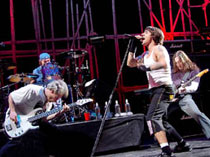 Funk is a keyword often used when someone is describing Red Hot Chili peppers music, but there is more; add some punk, hip hop, good lyrics, psychedelic rhythms and good riffs and you are close to the result. You will find all this in the Red hot chili peppers tabs below.
Vocalist Anthony Kiedis and Flea on bass is the only two founding members. Other members has been in and out of the band and reasons like drugs, frustrations and even death has been the reasons for some of the departures. Although their first albums did well, the first megasuccess was "Blood sugar magic" released in 1991. Many of the most popular red Hot Chili Peppers tabs below are from this CD. Only "Californication" has sold more than this album.
The band is popular both in the underground and in the mainstream scene and after seven Grammy awards and 65 million albums sold Red Hot Chili Peppers is still going strong.
Red Hot Chili Peppers guitar tabs and chords
Submit Red Hot Chili Peppers guitar tabs here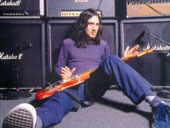 While the bassist and vocalist has been in the band since the start guitar players has been coming and going. Josh Klinghoffer is the recent man behind the sixstringer but as you can see in the Red Hot Chili Peppers guitar tabs below, the music is full of different technique and styles.
Current guitarist Josh has been with the band since 2009 but didn't play live with them before the year after. He is more than just a rented session player as he is writing music with the band, singing and even played keyboard on the 2011 album "I'm with you". The album is full of layered guitars and Josh's personal style. Red Hot Chili Peppers guitar tabs. Josh likes to play different brands of guitar and can be seen with fenders, Gibson's and Eastwood's. He has also played on many albums by other artists and bands.
Red Hot Chili Peppers bass tabs
Submit Red Hot Chili Peppers bass tabs here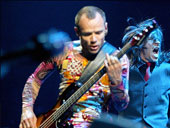 Michael Balzary, or Flea for short has been with the band since the day of light. His bass playing is very unique, original and funky and that might be the reason why it is so fun to play these Red Hot Chili Peppers bass tabs. Flea is a brand name of his own.
His signature style is finger picking and slapping. From the start, this was a perfect match with rapping style vocals. The style has changed over the years; there are not as many bass notes on each new song now as there where in the beginning, but punk is still a huge influence. Flea are one of the best and most original bass players and you can learn a lot from the Red hot Chili Peppers tabs below.