Slayer chords and tabs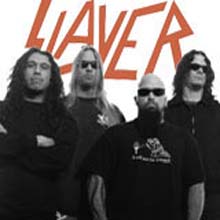 Slayer, with CDs like 'Show No Mercy' and 'Reign in Blood', is a thrash metal band formed in Huntington Park, California, in 1981 by guitarists Jeff Hanneman and Kerry King. Still in the music business playing Thrash metal and speed metal, fans still like classics like 'At dawn they sleep' and 'Ddamm'. Slayer tabs and chords for bass and guitar.
Go to slayer.net for more on the lates news, concerts and releases. As a proof of good music and good musicians they have received Grammy awards and Kerrang awards. Slayer has a place in the music history together with Megadeth, Metallica and Anthrax.
Browse our Slayer collection