Muse chords and tabs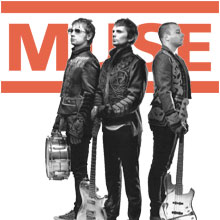 Muse is a band from England which was started by some school friends in the mid 90s. They soon got to the top of the charts with their original and easy to like music. Drums, keyboard, bass and a lot of unique guitar riffs and melodies are Muses ingredients to stardom.
Another way to recognise the style is the vocalist's use of falsetto, vibrato and melody. The music is complex but at the same time it has a clear melody which is easy to follow, a sound Muse have development through the years. This makes the guitar parts, as seen in these tabs and chords, fun to play. Learn their songs with our site and if you have the chance, go and see them live.
Browse our Muse collection