Megadeth chords and tabs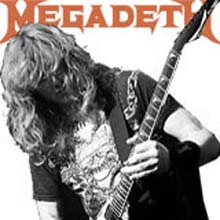 Megadeth, play guitar in the style of, is a heavy metal band from Los Angeles, California which was formed in 1983 by guitarist/vocalist Dave Mustaine, bassist Dave Ellefson and guitarist Greg Handevidt, following Mustaine's expulsion from Metallica.
We have all the Megadeth tabs and chords, but point your browser at megadeth.com to get the official site. Because of the good Heavy metal and thrash metal, the artists have a well deserved place at the Rock and roll hall of fame museum. With classics like Coming home and Gears of war from the past, new music are still written. Megadeth has a place in the music history together with Metallica, F5 and Panic. With CDs like So Far, So Good.. So What! and So Far, So Good.. So What! no wonder why they are conducted into Rock and roll hall of fame.
Browse our Megadeth collection