Carrie Underwood tabs and chords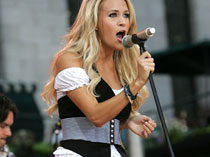 Carrie Underwood was born in 1983 in Muskogee, Oklahoma. She is a country music singer, songwriter and also actress. Her fame inintially came from winning American Idol in 2005. She has since sold millions of albums, won several Grammys, American Music Awards and CMA awards. Carrie plays piano as well as the guitar. Use our collection of Carrie Underwood guitar chords and tabs to play her country music mega hits!
Carrie Underwood went to Nashville to audition for a record ompany when she was only 14. She came close to signing a deal, but it was cancelled the last minute due to changes in managment of the record company. After high school she almost gave up hear dream of becomming a singer and focused on her education. She holds a bachelor degree in Mass Communication. Before winning American Idol she also worked as a waitress at a pizzeria, worked at a vet clinic and at a zoo!
Carrie Underwood guitar tabs and chords
Submit Carrie Underwood guitar tabs here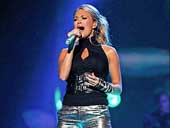 Carrie Underwood auditioned for American Idol in 2004. She sang «Could've been» by Tiffany. Infamous judge Simon Cowell already then noticed her and held her as a favourite to win the whole thing. Carrie plays Copley and McPherson acoustic guitars. Enjoy playing these Carrie Underwood guitar tabs and chords on your own guitar.
Carrie Underwood became the 4th winner of American Idol. She won a Ford Mustang and a huge recording contract.
Carrie Underwood bass tabs