Pink Floyd tabs and chords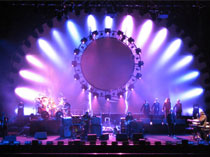 Pink Floyd started as a quartet in the mid sixties but they later added another member counting five in total. Their music is so rich that they also had other musicians during concerts. The band had many good songs which you can find in the Pink Floyd tabs below.
The band knew exactly what to do so everything should be perfect in every detail. No only music but also lyrics, album art, and their massive shows. They started off playing progressive and psychedelic rock but later moved more and more into long pop-songs which were easier for the masses. You will find all musical periods represented in the Pink Floyd tabs here on the site. The last performance was on the 12th of May 2011 at the O2 Arena in London
Pink Floyd guitar tabs and chords
Submit Pink Floyd guitar tabs here
Two years after the formation David Gilmour was asked to join the band as the fifth member. He already knew some of the members as he did study together with them. As time went on Gilmour lead guitar became more and more important. See the Pink Floyd guitar tabs here.
Blues-influences, expressive note bends and sustain are words often used when someone is trying to explain Gilmours guitar style. His solos are often long and quiet and there is no doubt that he has written some of the best guitar solos ever. You can follow his work note by note in the Pink Floyd guitar tabs here. Gilmour used many guitar and brands thru the years but his main guitar was an 3-color Sunburst Fender Stratocaster. It was often modified and even repainted in black at one time. He also often used a Candy Apple Red '57 reissue which was made in 1984. It was fitted with a set of EMG SA active pick-ups
Pink Floyd bass tabs
Submit Pink Floyd bass tabs here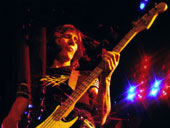 Roger Waters was Pink Floyd s bass player all the way up until he left the band in 1985. The loss was so huge that the band did not replace him after the departure but instead used hired bass players in concerts. You will find Pink Floyd bass tabs to all of their songs here. He continued as a solo artist and often play Pink Floyd songs and albums live.
Waters often played a black P-Bass on stage and this four-stringer later became the basis for a Fender Artist Signature model. Pink Floyd bass tabs. For the strings Waters endorses RotoSound Jazz Bass 77 flat-wound.