Nightwish tabs and chords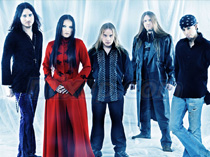 Nightwish is Finland's biggest export success apart from Nokia and Finlandia vodka. The band was formed in Kitee in 1996 by keyboard player Tyomas Holopainen, guitar player Emppu Vuorinen and singer and eye candy Tarja Turunen. Nightwish plays gothish symphonic metal with female and male vocal parts. The male part used to be sung by various guest artist but is currently done by new bass guitar player Marco Hietala. Turunen has left the band and has been replaced by Anette Olzon who now provides the female vocals.
Nightwish songs are often based on fantasy and mythology themes. Some of their early works used Finnish language but since the debut album English is used almost exclusively.
Nightwish guitar tabs and chords
Submit Nightwish guitar tabs here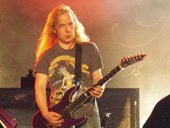 Erno "Emppu" Matti Juhani Vuorinen was a founding member of Nightwish, he has played guitar all along. He is mainly a rhythm guitar player supporting the orchestral parts of Nightwish's symphonic metal. He also plays solos and lead melodies. He uses alternate picking, tapping and sliding and whammy bar. Take that into account while playing the Nightwish guitar tabs and chords.
Vuorinen used to play Washburn guitars but has later changed to also use ESP guitars. He started to play guitar when he was 12.
Nightwish bass tabs
Submit Nightwish bass tabs here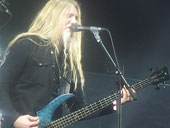 Marco Hietala is the current bassist and male vocalist in Nightwish. He uses Warwick bass guitars, most notably Infinity and Vampyre 4 string model. Most often he uses D Standard or Drop C tuning. Take note of that while playing these Nightwish bass guitar tabs.
Marco lists Geexer Butler as his greatest influence as a bass player and Ronnie James Dio as vocalist.