Led Zeppelin tabs and chords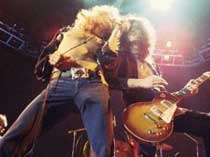 Here is the complete collection of Led Zeppelin tabs for this English rock band formed in 1968. With their heavy, guitar-driven sound, Led Zeppelin are one of the godfathers of heavy metal and hard rock.
Led Zeppelin have sold more than 200 million albums including 112 million in USA alone. This makes them one of the world's best-selling artists of all time. In 1995 Led Zeppelin were inducted into the United States Rock and Roll Hall of Fame. The band released ten albums while they existed and you will find Led Zeppelin tabs to them all here. Most fans look at the first four albums as their best.
Led Zeppelin guitar tabs and chords
Submit Led Zeppelin guitar tabs here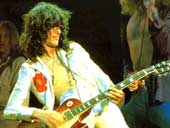 Guitarist Jimmy Page is one of the most influential and important guitarists and songwriters of rock music. You can see his styles and complexity in the Led Zeppelin tabs below.
For most of Led Zeppelin songs Page used Gibson Les Paul with Marshall amplification. Page also plays his guitar with a cello bow. This was a technique he developed in studio before he joined Led Zeppelin. This is explained in the Led Zeppelin guitar tabs. Gibson guitars have released several Jimmy Page Signature Les Paul guitars.
Led Zeppelin bass tabs
Submit Led Zeppelin bass tabs here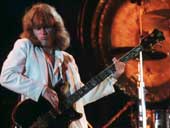 Led Zeppelin bassist John Paul has since Zeppelins debut in 1969 left his mark as an innovative bass player, arranger, and director. Many bassists have had him as their number one influence and studying these Led Zeppelin bass tabs you will understand why.
He was mostly seen with his 1962 Fender Jazz Bass during studio and live sessions with Led Zeppelin, but he also used a Fender, a Alembic and several four, eight, ten and even twelve string Manson bass guitars. Study these Led Zeppelin bass tabs and you will one day be able to play in the style of John Paul