Kiss tabs and chords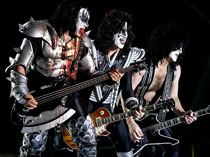 Kiss has had its ups and downs, but now many decades later they still are on top of the rock and roll world. With more than 100 million records sold no wonder why you can find such a huge list of Kiss guitar tabs below. It is also the band who has received most gold albums in USA.
The band started out as shock rockers in 1973 and soon became well known for their stage performances with fire, smoking guitars, blood and high volume. Although it is a very visual band, their catalogue is full of good music and classics. You will find Kiss tabs to them all below. Solo guitarists has been coming and going and so has the drummers, but Paul Stanley on rhythm guitar and Gene Simmons on bass has always been the leaders. The style can be described as hard rock with melody and a good ballad here and there.
Kiss guitar tabs and chords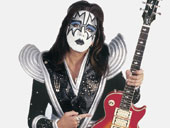 The guitar players have come and gone in Kiss but the most recognised is Ace Frehley who was with them from the start in 1973 up until 1982. He later became a full time member again in 1996, this time being the solo guitarist until 2002. Most of classic solos and riffs in the Kiss guitar tabs below are from his period.
Not only did he play very well, maybe the best musician in the band, he also had his own guitar tricks. Most notable is his smoking guitar which he started to use early. Later he got another guitar which shoots rockets and pyro. Kiss guitar tabs. Ace has his own signature Gibson Les Paul guitar which has been on the market for over two decades. Another guitarist who really knew what he was doing was Bruce Kulick. He was with the band in their non-makeup days and has not received the reputation he deserved. With these tabs you should be able to learn to play guitar in the style of Kiss.
Kiss bass tabs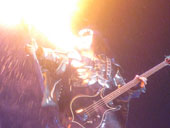 In Kiss the bass and Gene Simmons have a big part of the show. Not only are there a long bass solo on every show, but Simmons is also a front person. His playing style is melodic and easy, so these Kiss bass tabs should not be too difficult to do.
Not only is Mr Simmons known for his demon makeup and blood spitting on stage. He also has a growing list of famous basses. Most noticeable is the axe. A Kramer Jackson bass formed as a huge axe. Of course, you can play these Kiss bass tabs on your regular bass. He is also an actor, a writer and a business man. Enjoy these tabs and the rock and roll Kiss music.