Iron Maiden tabs and chords
Iron Maiden have been one of the pioneers in heavy metal and are still today one of the most popular bands in the genre. The group soon got world fame with platinum and gold selling albums in the early eighties. Get the Iron Maiden tabs to old classic as well as new tunes here.
Their Mascot Eddie has been a part of the band since day one, first appearing on their self titled debut, and later on t-shirts, posters, singles and almost all album covers. With three guitarists and a bass player, guitar is an important role in the band. With their own style of riffing and solos the band has created a unique style the fans love. Iron Maiden have influenced many now popular artist and they still influence young players. Now you can dig deeper into their music with our Iron Maiden tabs.
Iron Maiden guitar tabs and chords
Submit Iron Maiden guitar tabs here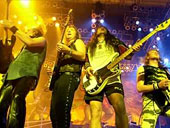 With three guitars screaming for attention there is no wonder why someone will call this a guitar driven metal band. Sometimes you get layers of melodies and sometimes they play following each other. The solos are also unique, sometimes thrown from one guitarist to another. Get the Iron Maiden guitar tabs and chords here.
Starting of in 1975 the band is still alive and touring so the Iron Maiden well never seems to be empty. All in all 11 guitarists have been in the band if you count members and ex-members. Of these only Dave Murray have been playing on all albums
Iron Maiden bass tabs
Submit Iron Maiden bass tabs here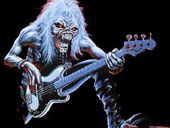 With a screaming voice and three guitars you could thing that there where little on no room for bass in Iron Maidens music. Wrong. Bassist Steve Harris has been in the band since the start and has a heavy impact on writing and recording. Get the Iron Maiden bass tabs to all his songs here.