AC/DC tabs and chords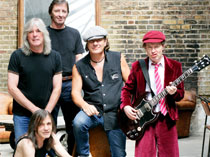 AC/DC is Australia's most popular band. Formed by the brothers Malcolm and Angus Young in the early seventies, the band has been one of the all time top hard-rock and heavy metal bands since. You will find all AC/DC tabs here. Now, almost forty years later the members are still working hard.
Their history can be split into two sections, one before the former lead singer Bon Scott died in London in 1980 because of alcohol, and one after Brian Johnson became a full time member with the Back in Black album. Both areas include good songs that are among the most popular AC/DC tabs in the list below. After the brothers formed the band they needed a name and found it on their sisters sewing machine. AC/DC means "alternating current/direct current" electricity and should describe the music very well.
AC/DC guitar tabs and chords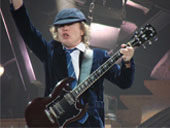 While members have been changed through the years, the brothers Angus and Malcolm Young have been with the band since day one. Their music and guitar style is often described as hard rock or heavy metal, but the band themselves call it simply rock and roll. You can see their different directions in the AC/DC guitar tabs here.
Angus is always in the spotlight in the band. Being the youngest of eight children it is no wonder why he still looks like a kid in his schoolboy-uniform stage outfits. He started with a broken banjo but have a whole line of signature guitars today. Angus most popular model is the Gibson SGs which has been changed slightly over the years, but he is always seen with it on stage. This guitar, together with his reissued version of a Marshall 1959 amplifier makes the classic AC/DC sound.
AC/DC bass tabs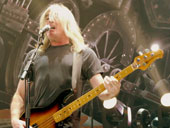 Current bass player Clifford Williams has been with the band since 1977. He is well known for his bassplaying style in AC/DC which follows the rhythm guitar very close. Keep this in mind when playing these AC/DC bass tabs.
Williams got the job as a bassplayer at an audition with the band after the previous member got fired. He debuted on the album Powerage. As he simply follows the rhythm guitar in their music he also has a low profile as a musician. His bass lines are often written my Malcolm or Angus, or he is working them out himself based on the guitar riffs. You can see this in the AC/DC bass tabs below. Cliff Williams mostly use his StingRay bass or other basses made by Music Man, stringed with D'Addario strings.