The White Stripes chords and tabs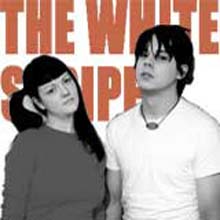 The white stripes were a duo with Meg and Jack white that not only did share the stage together but was also marriaged. From the start in 1997 they soon got famous for their low-fi style of doing things and for their red and white fashion. The band split up six albums and 26 singles later in 2011. You will find all these titles in the White Stripes tabs and chords below. The duo is now also divorced in private.
Their garage rock has deep roots into blues and early punk. There where only two musicians in the band, drums and guitar, so as you can see in the White Stripes tabs and chords below, guitar has an important role in the music. The albums were recorded in no time and their love shows was known to be spontaneity and raw. Black, red and white was the colors used on all live performances and artwork.
Browse our The White Stripes collection