Van Halen chords and tabs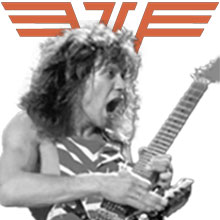 Van Halen, play guitar in the style of, is a hard rock band formed in Pasadena, California, in 1972. To get more information about Van Halen point your browser to van-halen.com. Master the riffs and chords from titles like Mean street and Beats workin just like Eddie Van Halen.
Starting in 1972, delivering Hard rock and heavy metal to the people has been the top priority. As a proof of good music and good musicians they have received Grammy awards and MTV music awards. Learn to play songs from Women and Children First and Women and Children First Van Halen style with these guitar tabs and chords. The artists can be seen in the Rock and roll hall of fame museum. Van Halen has a place in the music history together with Montrose, The Other Half and Chickenfoot. Learn from lessons like 'How to Play Guitar Like Van Halen' and 'Guitar Lesson: Van Halen Style Fretboard Fingertapping' in the video section.
Browse our Van Halen collection