Taylor Swift chords and tabs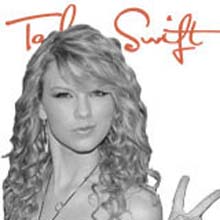 Taylor Alison Swift is an american country music mega star, singing and playing guitar. She was born in 1989 in Wymossing, PA, USA. She got a recording contract after a legendary performance at The Bluebird Cafe in Nashville. You will find many Taylor Swift tabs from her songs here. She released her first single, "Tim McGraw", in 2006. At that time she already had an impressive following thanks to MySpace fame.
She was the first female country music artist to have written all the songs on her debut album. Considering her young years thats an altogether impressive accomplishment! The song "You Belong with me" has become somewhat of a signature track for her. A fan favorite and very guitar friendly, like most of her songs. We have a great collection of Taylor Swift guitar chords and guitar tabs so get busy playing! She has won several MTV, CMA, CMT and Grammy awards for her work.
Browse our Taylor Swift collection