Sum 41 chords and tabs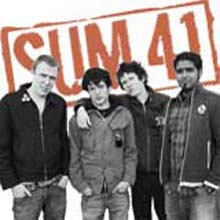 It took five years from the formation to their first album was finished and released. Success came faster as the debut single soon climbed to the top of the Billboard Modern Rock Tracks chart. Sum 41 are from Canada and play guitar based hard rock and pop punk. Learn their songs with these Sum 41 tabs and chords.
The music is a complex combination of inspiration ranging from punk to rapcore and alternative rock. Being known for the massive long tour, often 300+ gigs a year, Sum 41 has been seen onstage by huge masses. The varied music makes it fun to play so you can now learn their songs with our Sum 41 tabs and chords.
Browse our Sum 41 collection