The Rolling Stones chords and tabs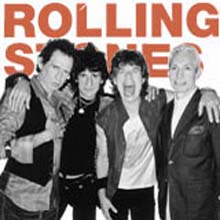 The Rolling Stones are a legendary British rock band formed in London in 1963. They are known for several classic hits like "Paint it Black", "Sympathy for the devil", "Gimme shelter", "Ruby Tuesday" and a whole bunch of other true rock & roll classics that should be a part of any rock guitarist's repertoire. You will find the guitar chords and Rolling stones guitar tabs for all of them right here.
Keith Richards (lead guitar) and Mick Jagger (vocals), a.k.a. The Glimmer Twins are the masterminds behind most of the classics. Their more than 50 albums have in total sold well over 200 million! The Rolling Stones started as a cover band, but Richards and Jagger were talked into song writing by their manager as they needed more material. The first original Jagger/Richards song released as a a-side single was "Tell Me (You're coming back)" from their debut album. The first line-up was Brian Jones (guitar, harmonica), Ian Stewart (keyboards), Mick Jagger (lead vocals, harmonica, guitar) and Keith Richards (guitar, vocals), Bill Wyman (bass) and Charlie Watts (drums). The Stones has seen a few bass and guitar players come and go, but for a band with such a long lifespan the line-up has been remarkably steady. Jagger, Richards and Watts has been the stable core of the band throughout the years. You will find Rolling Stones tabs from all their albums here. The latest line-up is Jagger, Richards, Watts and Ronnie Wood.
Browse our The Rolling Stones collection