R.E.M. chords and tabs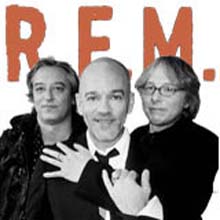 REM was a rock band from Athens, Georgia, USA. They formed in 1980. They soon became one of the first popular alternative rock bands, much thanks to Peter Buck's distinctive ringing, arpeggiated style go guitar playing. REM's first single, Radio Free Europe, was released in 1981 followed by the "Chronic Town" EP in 1982. You will find the R.E.M. tabs to these songs below. Their first full album, "Murmur" was released in 1983.
During the next 3 decades they produced several hit albums, peaking in popularity during the alternative friendly 90s. Peter Buck's unique guitar style remained a feature for the band during the whole period of existence. The band announced their split-up in September 2011. Almost all of REM's songs are guitar based. The songs are always easy recognizable as REM songs thanks to the unique sound and style of Buck's guitar playing. Use the R.E.M. guitar tabs and guitar chords provided here to master it yourself. Buck's guitar playing is often divided into 2 eras: early to mid 80s jangly sound and the later sound from the 90s and onwards which have a more stripped down and simpler sound.
Browse our R.E.M. collection