Paramore chords and tabs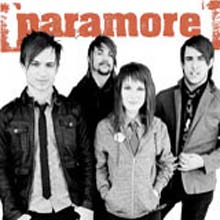 Paramore is an alternative rock band that was started in 2004 in Franklin, Tennessee, USA. Band members are singer Hayley Williams, bass guitar player Jeremey Davis and guitar player Taylor York. For touring they add a drummer and rhytm guitarist. Their debut album "All we know is falling" was released in 2005. The band name Paramore comes from the maiden name of one of their first bass guitar player's mother, see the Paramore tabs here. The first song the band ever wrote together, "Conspiracy", was included on their debut album.
Hayley Williams was originally signed as a solo artist and the record company had plans to turn her into a pop singer, due to market potential. However, she insisted she wanted to do alternative rock and that she wanted a band behind her. The record company buckled and the rest of the band was included.
Browse our Paramore collection