Pantera chords and tabs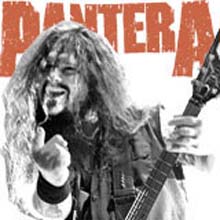 Pantera, guitar information, was a heavy metal band from Arlington, Texas. Also learn from videolessons like 'How to play Cemetery Gates' and 'How to Play Metal Guitar Licks in the Style of Dimebag Darrell'. Go to pantera.com for more on the lates news, concerts and releases.
Learn to play songs from albums like 'Cowboys from Hell' and 'The Great Southern Trendkill' with these Pantera guitar tabs and chords. Bands and artists like Damageplan, Down and Superjoint Ritual and musical directions like Heavy metal, groove metal and thrash metal are often mentioned to describe Pantera. Learn to play songs like Floods outro solo and Piss from the full catalog of music spanning from 1981 to 2003.
Browse our Pantera collection