The Offspring chords and tabs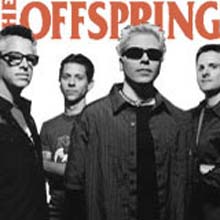 The Offspring, with records like 'The Offspring' and 'Smash', is a punk rock band from Huntington Beach, California, formed in 1984. Noodles |Noodles and Dexter Holland, both Offspring guitarplayers, are doing a good job. Learn their attitude here. Enjoy these free and easy Offspring tabs and chords.
Still in the music business playing Punk rock and pop punk, fans still like classics like 'All i want' and 'Days go by'. For more information and the latest updates, check the website offspring.com. Offspring has a place in the music history together with Face to Face, Saves the Day and Steady Ground.
Browse our The Offspring collection