Nirvana chords and tabs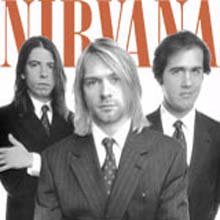 Nirvana was a short lived band that started in 1987 and ended with the death of guitarist Kurt Cobain in 1994. Much of the music, as you can see in the Nirvana tabs below, is based on dynamic contrasts between quiet verses and loud, heavy choruses. They based the writing on the new grunge sound and soon built a fanbase based on this.
The music moved between spare bass-and-drum grooves and shrill bursts of screaming guitar and vocals, a pop versus punk formula that worked very well. Keep this in mind when playing these Nirvana tabs. Cobain usually came up with the different components of each song, writing them on an acoustic guitar. He started with the melody, singing style and the lyrics then the band was included and they finished the song together. Kurt once said that his lyrics are not so important and that many of them are just about screaming out some negative words.
Browse our Nirvana collection