Paul McCartney chords and tabs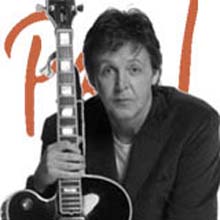 James Paul McCartney, winner at the Grammy awards, is a musician, singer-songwriter and composer. Learn Paul McCartney songs like Dance tonight mandolin tab and My valentine with these tabs and chords. As seen in the Rock and Roll Hall of Fame museum.
For more information and the latest updates, check the website at PaulMcCartney.com. Bands and artists like The Quarrymen, The Beatles and Wings and musical directions like Rock, pop and classical are often mentioned to describe Paul McCartney. The career for Paul McCartney started in 1957, and since then classics like McCartney II and McCartney have been released.
Browse our Paul McCartney collection