John Lennon chords and tabs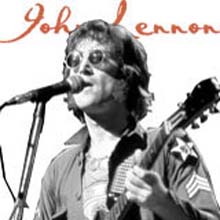 John Winston Ono Lennon, learn to play 'Unfinished Music No.1: Two Virgins' and 'Wedding Album', MBE was a musician and singer-songwriter who rose to worldwide fame as one of the founder members of The Beatles. Play guitar and bass John Lennon style with these tabs and chords.
Because of the good Rock and pop, the artists have a well deserved place at the Rock and roll hall of fame museum. Learn to play songs like Instant karma and The luck of the irish from the full catalog of music spanning from 1957 to 1975, 1980. John Lennons own place in cyberspace is at johnlennon.com. John Lennon has a place in the music history together with The Quarrymen, The Beatles and Plastic Ono Band. Heavy equiped with prices like Grammy awards, Academy awards and BRIT awards. Learn from lessons like 'Guitar Lesson - Imagine by John Lennon' and 'How to Play Imagine by John Lennon on Acoustic Guitar' in the video section.
Browse our John Lennon collection