Avril Lavigne chords and tabs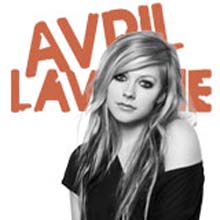 Avril Lavigne was born on September 27 1984 in Belleville, Ontario, Canada. She is a singer-songwriter and actress with a successful career that started when she was just a teen girl. Avril's father bought her her first guitars. She would soon start to perform at county fairs and similar, covering songs by the likes of The Dixie Chicks and Shania Twain. She started writing her first songs around this time. Use our collection of Avril Lavigne guitar tabs and chords to play her songs on your guitar!
She appeared on stage alongside fellow countrywoman Shania Twain when she was just 15 and signed her first recording contract when she was 16. Her debut album "Let Go" was released when she was 17. She became the youngest female solo act to reach no. 1 on the UK chards. Her breakthrough single was "Complicated" which propelled her to international fame, reaching no. 1 in countries all over the world. Avril Lavigne grew up listening to bands like Goo Goo Dolls, Blink 182. She also states the likes of Janis Joplin and Courtney Love as inspirations. Avril is often labeled as being an angry rebel pink, an image she herself denies. Avril Lavigne is an accomplished songwriter. Have fun playing her hits using the provided Avril Lavigne guitar tabs and chords.
Browse our Avril Lavigne collection