Hedley chords and tabs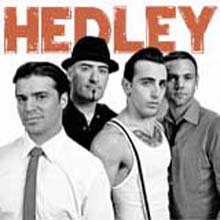 Hedley, play bass and guitar in the style of, is a Canadian rock band composed of lead singer Jacob Hoggard, Tommy Mac on bass, Dave Rosin on lead guitar and Chris Crippin on drums. Learn riffs and chords as heard in 'Kiss you inside out' and 'Dear blank' with our Hedley tabs.
Hedleys own website is at hedleyonline.com. Hedley have been famous for songs like Hedley and On My Own since the start in 2004.
Browse our Hedley collection