Guns N' Roses chords and tabs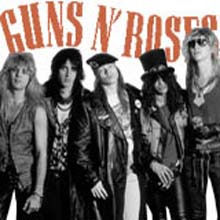 Guns n Roses was formed in Hollywood in 1985 and led by Axl Rose who is now the only consistent and original member. Their debut Appetite for Destruction, has sold more than 28 million copies worldwide and reached No. 1 on the states. Most of their best known songs are from this album and you will find Guns n' roses tabs to them all here.
Guns N' Roses signed with Geffen the same year as their inception and topped the charts weeks after garnering late hours airplay on MTV. Appetite for Destruction is the highest-selling debut CD of all time. The band have released a few albums since and changed their lineup every now and then. Guitar and bass is two keywords to use when describing the music. It is, as you can see in the Guns n' roses tabs below, a fusion of punk, blues, heavy metal and hard guitar rock.
Browse our Guns N' Roses collection