Grateful Dead chords and tabs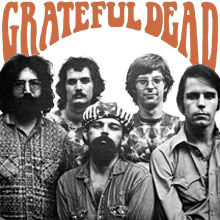 Check the huge collection of Grateful Dead tabs and chords for songs like 'Ship of fools' and 'We can run' here at GuitarTabsExplorer.com. While we give you all the Grateful Dead chords and tabs, the official webpage is at dead.net. Grateful Dead have rocked the fans with compositions like Europe 72 and Live / Dead since the beginning in 1965.
As seen in the Rock and Roll Hall of Fame museum. Find tips and tricks in the videos 'Uncle John's Band - Guitar Lesson' and 'The Grateful Dead's Ripple - Acoustic Guitar Lesson'.
Browse our Grateful Dead collection