Selena Gomez chords and tabs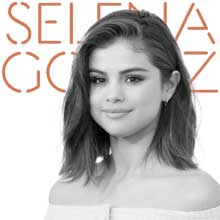 Selena Marie Gomez, with classics like 'Kiss and Tell' and 'A Year Without Rain', is a actress and singer best known for portraying Alex Russo, the protagonist in the Emmy Award -winning television series '' Wizards of Waverly Place ''.
If you like the music from Selena Gomez the Scene, Demi Lovato and Taylor Swift, the Pop and dance from Selena Gomez will be just for you. While we give you all the Selena Gomez tabs and chords, the latest news and music is at SelenaGomez.com. Learn to play songs like I love you like a love song and Hit the lights from the full catalog of music spanning from 2002 to present. Honoured with prizes like MTV music awards and Billboard music awards.
Browse our Selena Gomez collection