Foster The People chords and tabs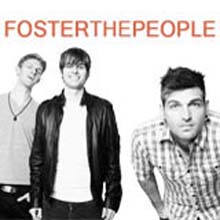 Foster the people is a multi-genre indie pop band from Los Angeles, USA. The band formed in 2009 and has three band members: Mark Foster playing keyboards, guitars and also sings. Mark Pontius plays drums. Cubbie Fink plays bass guitar. Foster the people released their debut album Torches in May 2011. The first single "Pumped up kicks" quickly became a cross-over hit appealing to both indie, pop, rock and mainstream audiences.
Mark Foster formed the group while he was a jingle writer. The band was signed to a major label after "Pumped up kicks" had been an underground hit. Foster the people's music is not heavy guitar based but has a rhythmic groove and feel to it. Adjust your guitar style accordingly while playing these Foster the people guitar tabs and chords. Enjoy!
Browse our Foster The People collection