Foo Fighters chords and tabs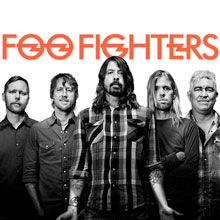 Foo Fighters is an alternative rock band formed in 1994 by ex-Nirvana drummer Dave Grohl. It was originally a solo project following the tragic end of his previous band. The self-named debut album, which you will find in the Foo Fighters tabs below, featured Grohl as the only official member. The band has seen several members come and go for the various album releases and tours.
The songs on the debut album were mostly written while touring with Nirvana. Former Nirvana singer and guitarist Kurt Cobain was a major influence for Grohl's first songwriting. As you can see in the Foo Fighters tabs below, the songggs often shift between quiet verses and loud choruses, the style Nirvana were so famous for. The guitar style and riffs are written to be as rhythmic as possible, like you would expect for a drummer converting to guitarist. Keep that in mind while playing the Foo Fighters guitar tabs and chords! Once Foo Fighters were assembled as a full band other band members would assist in the song arrangements. More melodic elements are melded with harder sounds. Dave Grohl, apart from singing, still plays rhythm and lead guitar. He also plays drums on some recordings, but obviously not live. The band have received 3 Grammy Awards for Best Rock Album, all of Foo Fighter's six first albums have been nominated!
Browse our Foo Fighters collection