Dire Straits chords and tabs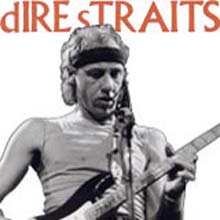 Dire Straits, guitar lessons, were a British rock band, formed in 1977 by former journalist and teacher Mark Knopfler, initially composed of Knopfler, his younger brother David Knopfler, John Illsley, and Pick Withers . Heavy equiped with prices like Grammy awards, MTV music awards and American music awards.
Enjoy these Dire Straits guitar lessons, tabs and chords for classics like 'Brothers in arms ' and 'Sultans of swing alchemy final solo'.
Browse our Dire Straits collection