Die Toten Hosen chords and tabs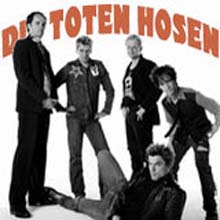 Die Toten Hosen, learn songs from Auf Dem Kreuzzug Ins Gluck, is a German punk band from Düsseldorf that has been highly successful in Germany since the 1980s. Below is Die Toten Hosen tabs and chords for songs like Drauen vor der tur and Tage wie diese.
While we give you all the Die Toten Hosen chords and tabs, the official webpage is at dietotenhosen.de. Singing in German the lyrics can sometimes be a bit hard to get for the rest of the world, but the music is so good that it speaks for itself. The breakthru was in 1983 when the band signed to EMI records and released the Eisgekühlter Bommerlunder promo video. Learn to play the typical Die Toten Hosen punk with these tabs and chords.
Browse our Die Toten Hosen collection