Lana Del Rey chords and tabs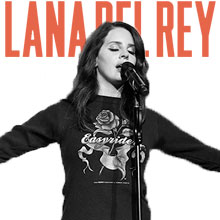 Lana Del Rey was born in New York City in 1986, but grew up in Lake Placid. Lana Del Rey is her stage name; her real name is a bit less glamorous: Elizabeth Grant. After being involved in drugs and alcohol she was sent to a boarding school in Connecticut. She later attended a University in NYC before dropping out to prioritize her musical career. Use our collection of great Lana Del Rey guitar chords and tabs to play her music.
Lana Del Rey released her first full album, Lana Del Rey a.k.a. LIzzy Grant, in 2010. Her second album "Born To Die" was released in October 2011 and brought her commercial success and fame. The now immensely popular "Video Games" was the first single from her debut album, and it was this single that propelled her success. Lana Del Rey describes herself as a gangsta Nancy Sinatra. Her sound and style has been compared to the mood from the Twin Peaks series, some critics saying that this is how Audrey Horne would sound like if she released and album! Lana herself lists Elvis, Kurt Cobain and Britney Spears as artists who has influenced her music.
Browse our Lana Del Rey collection