Deftones chords and tabs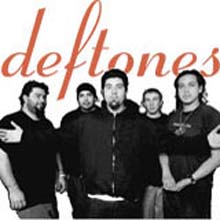 Deftones, Grammy winner, are a alternative metal band from Sacramento, California, founded in 1988. While we give you all the Deftones tabs and chords, the latest news and music is at deftones.com. This Alternative metal -act are often mentioned together with musically brothers and sisters like Team Sleep, Sol Invicto and Phallucy.
Play songs like 'Prince' and 'Diamond eyes' in the style of Deftones.
Browse our Deftones collection