David Bowie chords and tabs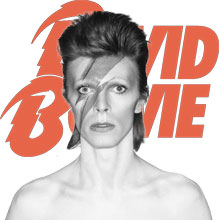 David Bowie, learn intro and solos from David Bowie and The Man Who Sold the World, is a musician, actor, record producer and arranger. Are you into Rock and glam rock and love entertainers like The Riot Squad, Arnold Corns and Tin Machine, then David Bowie is your man.
While we give you all the David Bowie chords and tabs, the official webpage is at davidbowie.com. Play Loving the alien and Putting out fire cat people from the career which started in 1964. The artists can be seen in the Rock and roll hall of fame museum. As a proof of good music and good musicians they have received Grammy awards and MTV movie awards. Find tips and tricks in the videos Starman Rhythm by David Bowie - Acoustic Guitar Lesson and How to Play Starman by David Bowie on One Acoustic Guitar.
Browse our David Bowie collection