Arctic Monkeys chords and tabs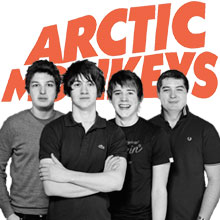 Arctic Monkeys, with classics like 'Whatever People Say I Am, That's What I'm Not' and 'Humbug', are a indie rock band. GuitarTabsExplorer is for all the Arctic Monkeys tabs and chords, but arcticmonkeys.com is for the everything else. With classics like From the ritz to the rubble and Bigger boys and stolen sweethearts from the past, new music are still written.
Often mentioned together with Mongrel and The Last Shadow Puppets, Indie rock and Seven Ages of Rock are keywords to describe the music.
Browse our Arctic Monkeys collection