Aerosmith chords and tabs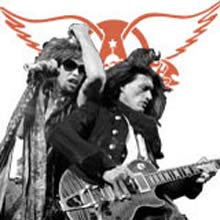 Aerosmith is an American hard rock band, sometimes called "The Bad Boys from Boston". Starting of in the early 70s, the band have been on top all decades since. GuitarTabsExplorer is for all the Aerosmith tabs and chords, but aerosmith.com is for the everything else.
Are you into Hard rock and heavy metal and love entertainers like The Joe Perry Project, The Jam Band and The Jimmy Crespo Project, then Aerosmith is your band. Releases like Get A Grip and Pump have resulted in prizes like Grammy awards and MTV music awards. The artists can be seen in the Rock and roll hall of fame museum. Find tips and tricks in the videos 'How to Play It's the Same Old Song on Acoustic Guitar' and 'Learn to Play You Gotta Move from Stefan Grossman'. Learn to play songs like Once is enough and Walkin the dog from the full catalog of music spanning from 1970 to present. Guitarists like Brad Whitford and Joe Perry gives Aerosmith style and uniqueness.
Browse our Aerosmith collection