ZZ Top - "La grange" Guitar tab
This song is about a Texan whorehouse called "The chicken ranch" and/or "Miss Edna's boarding house" in La Grange. The song is from the "Tres Hombres" album, released in 1973. Bass player Dusty Hill admitted in interviews that he went there when he was 13. This was the place where boys went when it was time to become men. ZZ Top La Grange guitar tabs. The place was well known among locals, but the ZZ Top song drew so much attention to the place that they had to close. The activities were after all illegal.
The music is based on a song by John Lee Hokker called "Boogie Chillen". ZZ Top were sued for the similarity in 1992 but the court ruled that "Boogie chillen" was in the public domain. The whole song is based around variations of single chord! "La grange" was ZZ Top's biggest hit at the time. They had a big following in Texas but were not well known outside the state. Billy Gibbons plays lead guitar on a 1955 Stratocaster through a Marshall Super Lead 100 with Celestion greenback speakers. Bill Ham produced ZZ Top La Grange guitar tabs. The song peaked at number 41 in the Billboard Pop singles list in 1974. In a rating from 2005 Q Magazine put La Grange at number 92 of their "100 Greatest Guitar tracks", while Rolling Stone magazine put it at number 74 on their "100 greatest guitar songs of all times" list.
Related pages are
La grange (Ver2) tabs
,
La grange intro tabs
,
La grange bass tabs
,
Blue jeans blues tabs
,
Legs tabs
.
. .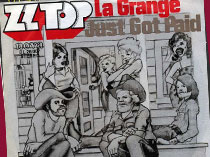 Artist: ZZ Top
Song: La Grange
Transcribed by jordanlockert@yahoo.com

Tablature Explanation:
h=hammer-on
p=pull-off
/=slide up
\=slide down
b=bend half
^=bend full
br, ^r=bend &release
~=let ring

Intro:
Am
-|-------------------------------------------------------------------------|
-|-*------------------------------1---1---------------------------1---1--*-|
-|----2-2---2---2---2---2-----0h2---2---2---2---2---2---2-----0h2---2------|
-|----2-2---2---2---2---2-------------------2---2---2---2---2--------------|
-|-*------------------------2--------------------------------------------*-|
-|-------------------------------------------------------------------------|
                                                                              
then that sort of changes into this:
-|-------------------------------------------------------------------------|
-|-*---------------------------------------------------------------------*-|
-|----2-2---2---2---2---2---2---------2-2---2---2---2---2---2-------2------|
-|----2-2---2---2---2---2---2---------2-2---2---2---2---2---2-------2------|
-|-*--------------------------3---5---------------------------3---5------*-|
-|-------------------------------------------------------------------------|
                                                                              
then the main heavy riff:
|--------------------------------------|
|-*----------------------------------*-|
|--------------------------------------|
|---2-2---2---2---2---2---2-5---7--5---|
|-*-0-0---0---0---0---0---0-3---5--3-*-|
|--------------------------------------|

Solo. Cm pentatonic
-|--------------8-------------------------------------------------------|
-|-11^------------11-8-11-8----8----------------------------------------|
-|--------------------------10---10-8-10-8------------------------------|
-|-----------------------------------------10-10------------8-------10--|
-|-----------------------------------------------------8h10---8---------|
-|---------------------------------------------------------------11-----|
                                                                              

-|--------------------------------------------------------------------------|
-|--------------------------------------------------------------------------|
-|-------------------------8^-----------------------------------------------|
-|---------8-------10-10--------------8---------------------8-----------10--|
-|-6/8h10----8-------------------/10----8-6-8-6---------/10---8----8--------|
-|--------------11------------------------------8-6-8-----------11---11-----|
                                                                             

-|----------------------------
-|-/11-11-11-11-11------------
-|-/12-12-12-12-12-10---------
-|--------------------13-10---
-|----------------------------
-|----------------------------
                                                                              

---------------------------------------------------------------------------
---------------------------------------------------------------------------
-------------------------------------------------------8--------------8^---
------8----------------------------------8h10--10--10-----10--10--10-------
-/10----8--6---------------6-6-8-6-8/10------------------------------------
-------------8-6-8----8-6-8-8----------------------------------------------
                                                                              

--------------------------------------------------------------
---------------------------------11-11-11--11-11-11-11-11-11--
--/10---8----/10-8-----------/12-12-12-12-/12-12-12-12-12-12--
----------10-------10-----------------------------------------
--------------------------------------------------------------
--------------------------------------------------------------
                                                                              

--------------8---------------------------------------|
------------8---11-8----8-----------------------------|
--10-8-10^-----------10---10^r-8----------------------|
---------------------------------xxxxxxxx-------------|
--------------------------------------xxxxxxx---------|
------------------------------------------xxxxxx**----|
*it sort of gets muffled here, just stay on the low end of the scale                              
            for a bit                                   

-|------------------------------------------------------------------
-|-----------11-11-11-11-11------11-11-11-11-11------11-11-11-11-11-
-|----8^-/12-12-12-12-12-12--/12-12-12-12-12-12--/12-12-12-12-12-12-
-|-10---------------------------------------------------------------
-|------------------------------------------------------------------
-|------------------------------------------------------------------
                                                                              

-----------------------------------------------------------------------
-----11-11-11-11-11-----11---11------------------------11-11-11-11-11--
-/12-12-12-12-12-12--/12--/12---10-----------------/12-12-12-12-12-12--
-----------------------------------13-10----10-------------------------
-----------------------------------------13----------------------------
-----------------------------------------------------------------------
                                                                              

---------------------------------------------------------------------------|
-----11-11------11-11-11-11-11------11-11-----11----11----11---------------|
-/12-12-12--/12-12-12-12-12-12--/12-12-12-/12---/12---/12----12\10--8------|
-----------------------------------------------------------------------10--|
---------------------------------------------------------------------------|
---------------------------------------------------------------------------|
                                                                              

-|------------8~~~~~~~~~~~~-----------------------------------------------------|
-|------8h10----10----10----10----10----10----10----10----10----10--------------|
-|-8h10------------12----12----11----11----11----10----10----10-------------2---|
-|------------------------------------------------------------------------------|
-|--------------*transition begins at this point--------------------0-0-3h4-----|
-|------------------------------------------------------------------------------|
                                                                              

-|--------------------------------------------------------------------------|
-|----10----10----10----10----10----10----10----10----10--------------------|
-|-12----12----12----11----11----11----10----10----10-------------2---------|
-|--------------------------------------------------------------------------|
-|--------------------------------------------------------0-0-3h4-----0-0-0-|
-|--------------------------------------------------------------------------|
repeat riffs from the begginning