ZZ Top tabs and chords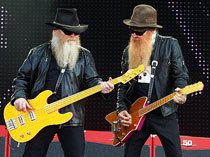 ZZ Top is a Texan rock band who has been around from 1969, equally famous for their impressive beards as for their boogie rock. The members have almost from the start been Dusty Hill on bass guitar, Billy Gibbons on guitar and vocals and finally Frank Beard on drums. The latter is ironically the only beardless member. This is your source to good ZZ Top tabs. They soon gathered a huge following in Texas.
Their debut album, appropriately named "ZZ Top's first album", was released in 1971. They gained nationwide and later world fame with the release of their third album "Tres Hombres", which contained the iconic "La Grange". Their most commercially successful period was the 80s when they released the albums "Eliminator" and "Afterburner", each selling multi millions. These albums featured a more synth like sound, but still staying true to the boogie rock formula. Their most famous hits like "Gimme All Your Lovin", "Legs", "Sharp Dressed Man", "Velcro fly" are from these albums. You will find the guitar tabs and guitar chords for them right here. You will have a good time playing these on guitar. ZZ Top was included in the Rock and Roll Hall of Fame in 2004. The music videos from the synth era became icons, establishing the bands famous image with the bearded members, the hot rod and the accompanying babes. Their last studio album to date is "Mescalero" from 2003. In 2009 they appeared on VH1's Storytellers to celebrate their four decades as a band.
ZZ Top guitar tabs and chords
Submit ZZ Top guitar tabs here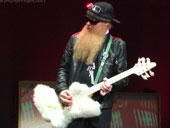 Billy Gibbons is famous for playing a 1959 Gibson Les Paul guitar known as Pearly Gates and a Gretsch Billy Bo guitar. Check his ZZ Top guitar tabs here.
Gibbons uses an old five pesos Mexican coin as a guitar pick and uses many pinch harmonics in his solos. Keep this in mind when playing these guitar tabs and guitar chords.
ZZ Top bass tabs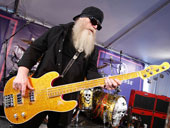 Dusty Hill has of course used several bass guitars during the years. For studio recordings a Vintage Fender Telecaster bass guitar has often been used. See his ZZ Top bass tabs here below. He has also played several other custom Telecaster bass guitars.
You can of course play these bass guitar tabs on any bass guitar you like. Enjoy!