Bruce Springsteen - "Wrecking ball" Chords
Wrecking ball is the title track on Bruce Springsteen's seventeenth album. Released in early January 2012 it soon topped the charts all over the world. The song was written three years earlier as a tribute to Giants Stadium which was closing at the time. Bruce Springsteen "Wrecking ball" guitar chords.
Bruce is known for writing songs and lyrics about his hometown New Jersey, and this is no exception. Ticking in at almost six minutes, the studio version has a different arrangement than the previous released live version. These Wrecking ball chords are for the studio version.
Related pages are
Santa ana chords
,
Shackled and drawn chords
,
Jack of all trades chords
,
Death to my hometown chords
,
The river (Ver2) chords
.
. .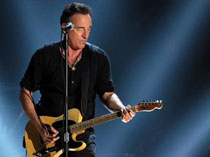 Intro:  D  G  Bm  A  D
                                                             G
I was raised out of steel here in the swamps of Jersey, some misty years ago
            Bm                                                        G
Through the mud and the beer, and the blood and the cheers, I've seen champions come and go
   D                                G
So if you got the guts mister, yeah if you've got the balls
       Bm                                                     G
If you think it's your time, then step to the line, and bring on your wrecking ball

                       D
Bring on your wrecking ball
                       G
Bring on your wrecking ball
                           Bm                           A
Come on and take your best shot, let me see what you've got
                       D
Bring on your wrecking ball
                       D
Bring on your wrecking ball
                       G
Bring on your wrecking ball
                           Bm                            A
Come on and take your best shot, let me see what you've got
                       D
Bring on your wrecking ball

Now my home was here in the Meadowlands, where mosquitoes grow big as airplanes
Here where the blood is spilled, the arena's filled, and Giants play the game
So raise up your glasses and let me hear your voices call
Come on!
Because tonight all the dead are here, so bring on your wrecking ball

Bring on your wrecking ball
Bring on your wrecking ball
Take your best shot, let me see what you've got
Bring on your wrecking ball

One, two, one two three four!

[trumpet solo]

        G                        Bm
Yeah we know that come tomorrow, none of this will be here
   G
So hold tight on your anger
 Bm
Hold tight on your anger
 G                            A                        D
Hold tight to your anger, and don't fall to your fear   

Now when all this steel and these stories, they drift away to rust
And all our youth and beauty, it's been given to the dust
And your game has been decided, and you're burning the clock down
And all our little victories and glories, have turned into parking lots
When your best hopes and desires, are scattered through the wind
And hard times come, hard times go
Hard times come, hard times go
And hard times come, hard times go
Hard times come, hard times go
Hard times come, hard times go
Yeah just to come again

Bring on your wrecking ball
Bring on your wrecking ball
Come on and take your best shot, let me see what you've got
Bring on your wrecking ball
Bring on your wrecking ball (bring on your wrecking ball)
Bring on your wrecking ball (bring on your wrecking ball)
Take your best shot, let me see what you've got, bring on your wrecking ball

One, two, one two three four!

[trumpet solo]

Whoa-ho-ho
Whoa-ho-ho