Bruce Springsteen tabs and chords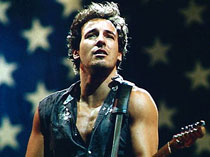 Bruce Springsteen from New Jersey has been on top of the music business since the early seventies. His rock has stayed the same for decades, having found a recipe that goes deep into the heart of the Americans. His career has been a long line of hits and you will find Bruce Springsteen tabs and chords to them all here.
Being his own songwriter and composer his songs deal with everyday life and the struggles that we all have. The lyrics might be one of the reasons for his never ending popularity, together with the folk inspired rock music. Being a musician himself, the music is very guitar orientated, and with full band, the E-Street band, in the back it ends up phenomenal. 21 Grammy awards are more than most artists can dream of, for Bruce it is the proof that he has been on top for four decades. Get your Bruce Springsteen tabs here.
Bruce Springsteen guitar tabs and chords
Submit Bruce Springsteen guitar tabs here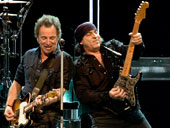 On his first albums Bruce Springsteen's music was very close to complete rock while influences from American folk and blues have been more prominent thru the years. The musical mix together with the lyrics goes deep into the heart of the Americans and this might be the reason why he has been so popular for so long. His songs are timeless. Get the Bruce Springsteen guitar tabs here.
New songs and hits are today played on radio with old classics like "The River", "Born in the USA" and "War". Springsteen is known for using Fender, Gibson and Takamine guitars in studio and on stage. Learn to play Bruce Springsteen's simple guitar riffs, hard rock guitar solos and clearly recognizable song structures with these tabs and chords.
Bruce Springsteen bass tabs
Submit Bruce Springsteen bass tabs here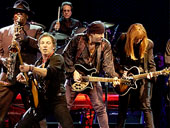 Bruce Springsteen is a good singer and guitar player but he cannot do the whole music all by himself. For most of his albums and most of his tours he has used his band simply called The E-Street band. Bassist Garry W. Tallent has been playing with Bruce Springsteen long time before he started as a solo artist. Get the bass tabs to the classic Bruce Springsteen songs here.
Garry who has recorded with several other bands and artists is mostly in the back, both when it comes to music and attitude. Several members has been in and out of the E-Street band but the bassist have always been the same.