Soundgarden tabs and chords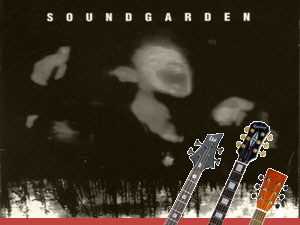 Soundgarden, with a Grammy as a proof of good music, is a grunge band formed in Seattle, Washington in 1984 by singer Chris Cornell, lead guitarist Kim Thayil, and bassist Hiro Yamamoto. Soundgarden has a place in the music history together with Temple of the Dog, Hater and Wellwater Conspiracy.
We have all the Soundgarden tabs and chords, but point your browser at soundgardenworld.com to get the official site. Play songs like Fopp and Live to rise in the style of Chris Cornell.
Soundgarden guitar tabs and chords
Submit Soundgarden guitar tabs here
Soundgarden bass tabs