Slipknot tabs and chords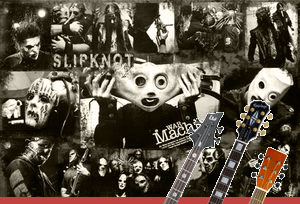 Slipknot, learn songs from 'Slipknot', is a heavy metal band from Des Moines, Iowa. Slipknot play Heavy metal and nu metal just like related bands Stone Sour, Murderdolls and To My Surprise. Play Psychosocial, Vermilion and other songs with these Slipknot guitar tabs and chords.
All the latest updates and news about Slipknot can be found at slipknot1.com.
Slipknot guitar tabs and chords
Submit Slipknot guitar tabs here
Slipknot bass tabs