Ozzy Osbourne tabs and chords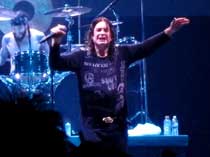 Ozzy Osbourne started his musical career in Black Sabbath in the early 70s but became a solo artist after some years. He is one of the godfathers of heavy metal and has defined the genre together with his bands-mates and band-members. His most popular songs can be found in these tabs and chords. Ozzy Osbourne is a well awarded man which has received Grammys, NME awards, VH1 honors and been inducted onto the Rock and roll hall of fame.
A man of his size can pick the best musicians whenever he needs one and you will find Ozzy Oasbourne tabs from all periods here. The most famous guitarist in Ozzys band was Randy Rhodes, a metal guitarist full of classical music influences. He died in a plane-crash while on tour. The music has changed thru the years but the main concept and style has always been the same. He invented heavy metal and has been faithful to the genre for over forty years.
Ozzy Osbourne guitar tabs and chords
Submit Ozzy Osbourne guitar tabs here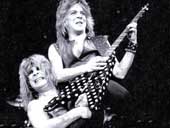 There have been four guitarists in Ozzy Osbournes band since the start in 1980. All of them famous for their work with the Price of Darkness and they have all had a good musical career. Ozzy Osbourne guitar tabs and chords from all six-stringers can be found on these pages.
From the start he got Randy Rhoads on guitar. As you can see in the Ozzy tabs and chords from his period, he was very influenced by classical music. After Randy died, Jack E. Lee became the new guitarist. Ha came from the Ronnie James Dios band prior to playing for Ozzy and also joined several other successful bands after he left. Zakk Wylde was in the band for almost 20 years and stamped his mark on Ozzys music, hard and heavy riffing. Current guitarist is Gus G.
Ozzy Osbourne bass tabs
Submit Ozzy Osbourne bass tabs here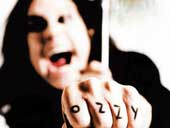 Bassplayers has been coming and going in the Ozzy Osbourne band. Most of them survived only one or two albums while Bob Daisley who was there from the start did three. Get all the Ozzy Osbourne bass tabs you need here.
The most noticeable bassists were Geezer Butler and Robert Trujillo. Geezer did play with Ozzy in black Sabbath while Robert, or Rob for short, ended up in Metallica after quitting. Trujillos playing style is funky and fast while Butler is slower and does follow the other instruments closer.