Metallica tabs and chords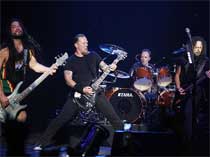 The band was founded in 1981 when young guitarist James Hetfield met drummer Lars Ulrich. Current line-up features long-time lead guitarist Kirk Hammett who joined the band prior to the album debut the same year and bassist Robert Trujillo on bass who joined in 2003. Complete list of Metallica tabs here
Fast tempos, heavy riffs, clean solos and aggressive musicianship are keywords when their music is described. You will find it all the Metallica tabs below. They started to get a following from day one and saw the commercial top in 1991 when they achieved substantial success with their the fifth album known as The Black Album. The band has sold more than 100 million records worldwide. In June 2003, Metallica's eighth studio album, St. Anger drew mixed reactions from critics as there were no guitar solos. The band has, as you can see in the Metallica tabs below, since gone back to the formula of long solos on albums.
Metallica guitar tabs and chords
Submit Metallica guitar tabs here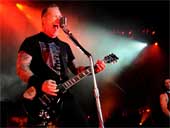 Lead guitarist Kirk Hammet and rhythm guitarist James Hetfield has been with the band since the debut in 1983. Hammett was ranked number 15 in the book "The 100 Greatest Metal Guitarists" while Hetfield was ranked higher as number 8. See Metallica guitar tabs to their music below
James has been a major consumer of ESP Guitars, and is well known for his custom-made Explorer-style guitars. Kirk Hammett is using the ESP Guitar Company as well. On the first five albums Hetfield recorded all rhythm tracks and most harmonies but since Load, as you can see in Metallica guitar tabs below, Hammett is recording rhythm guitars as well. Hammett's style is also noted for his use of the wah-wah pedal in solos, he even calls the pedal an extension of his personality. Solos are mostly Kirks domain but Hetfield occasionally plays guitar solos on songs such as "Nothing Else Matters" and "My Friend of Misery".
Metallica bass tabs
Submit Metallica bass tabs here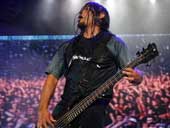 Metallicas current bass player Robert Trujillo joined the band in 2003 replacing Jason Newsted who left two years earlier. Trujillo is primarily a fingerstyle player, but uses a pick on stage. See the Metallica bass tabs to his work below
Trujillo's predecessor in Metallica, Jason Newsted, was exclusively a pickstyle player, while Cliff Burton who played bass on the first three albums played fingerstyle exclusively. Keep this in mind when learning these Metallica tabs. Trujillo also uses the slap bass technique and he often play an extended bass solo called "Jungle Essence" live with this techniques. Rob is mostly playing Fernandes Gravity 5-string bass, especially a model with a silver finish, blue flame decals.