Bruno Mars - "The lazy song" Chords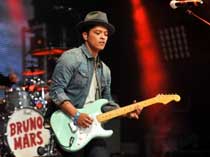 We will find "the lazy song" on Mars Brunos debut album Doo-Wops & Hooligans. It was released as his third single in early 2011. Bruno is known to work tight together with his production team and this song is a result of this. As you can see in these Mars Bruno the lazy song guitar chords it is inspired by reggae and Hawaiian music.
The song soon became very popular and this was one of four chart-toppers in UK in 2011. The song and these "The lazy song" guitar chords are written in the key of B major. The reggae beat which keeps the song alive is nice and cosy.
Related pages are
The lazy song (Ver2) chords
,
The lazy song tabs
,
If i knew chords
,
Grenade chords
,
Marry you chords
.
. .
These 'The lazy song' by Bruno Mars chords also include lyrics.
B F# E
Today I don't feel like doing anything
I just wanna lay in my bed
Don't feel like picking up my phone
So leave a message at the tone
Cus today I swear I'm not doing anything

B F# E
I'm gonna kick my feet up and stare at the fan
Turn the Tvee on
Throw my hand in my pants
Nobodys gon' tell me I cant

B F# E
Ill be lying on the couch just chillin in my snuggie
Click to MTV so they can teach me how to dougie
Cus in my castle I'm the freakin man

  C#m
Oh Oh yes I said it
D#m
I said it
   E             F#
I said it cus I can

B F# E
Today I don't feel like doing anything
I just wanna lay in my bed
Don't feel like picking up my phone
So leave a message at the tone
Cus today I swear I'm not doing anything

Nothing at all
Ooh hoo ooh hoo
Hoo ooh ooh
Nothing at all

Ooh hoo ooh hoo
Hoo ooh ooh
Nothing at all
www.1stchords.com
Tomorrow I'll wake up do some P90X
Meet a really nice girl have some really nice sex
And she's gonna sream out 'this is great'
Yeaaah

I might mess around and get my college degree
I bet my old mam would be so proud of me
But sorry paps you'll just have to wait
Oh Oh

Yes I said it
I said it
I said it cus I can

Today I don't feel like doing anything
I just wanna lay in my bed
Don't feel like picking up my phone
So leave a message at the tone
Cus today I swear I'm not doing anything

        Cm
No I ain't gonna comb my hair
    G#m
Cus I ain't going anywhere
Cm
No No No No No No No No No Oh
         C
I'll just strut in my birthday suit
     G#m
And let everything hang loose
Cm
YeahYeahYeahYeahYeah...
Ohh ohh

Today I don't feel like doing anything
I just wanna lay in my bed
Don't feel like picking up my phone
So leave a message at the tone
Cus today I swear I'm not doing anything

Nothing at all
Woohoo ooh
Woohoo ooh hooh ooh ooh
Nothing at all

Woohoo ooh
Woohoo ooh hooh ooh ooh
Nothing at all