Bruno Mars - "Marry you" Chords
Yet another song and single from Mars Brunos debut album Doo-Wops & Hooligans. This time the lyrics are about, as you can see in the title Marry You guitar chords, about a spontaneous marriage idea. It is not one of his best songs but still very popular.
The song is a mix of elements like Reggae and R&B. This love song is about a trip to Las Vegas, a fast marriage and everything else such a story should include. These Marry you guitar chords is in the key of F major.
Related pages are
Marry You (Ver2) Chords
,
Natalie Chords
,
If I Knew Chords
,
Grenade Chords
,
The Lazy Song Chords
.
. .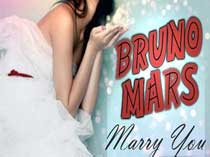 F

Strumming: \\\/\/ /\ \/\

F
It's a beautiful night,
                            Gm
We're looking for something dumb to do.
    Bb
Hey baby,
                           F
I think I wanna marry you.


F
Is it the look in your eyes,
              Gm
Or is it this dancing juice?   
     Bb
Who cares baby,
                           F
I think I wanna marry you.


Gm
Well I know this little chapel on the boulevard we can go (go),
            Bb
No one will know (know),
     F
Come on girl.

Gm
Who cares if were trashed got a pocket full of cash we can blow (blow)
          Bb
Shots of patron,
         F
And its on girl.


F
Don't say no, no, no, no-no;
         Gm
Just say yeah, yeah, yeah, yeah-yeah;         
          Bb
And we'll go, go, go, go-go.
          F