Bruno Mars tabs and chords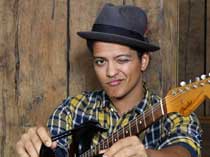 Bruno Mars is a young singer and songwriter currently located in Los Angeles. He was born and raised in Hawaii but decided to start in the music business after high school. He started as a producer for several bands and albums and later became a solo artist. These Mars Bruno tabs are from his solo career.
Bruno is getting inspiration for his own music from many different musical genres. Maybe you can see this in our Mars Bruno tabs below. Even if he is so young he has been nominated for several Grammys. He has also been on the top of the Billboard list.
Bruno Mars guitar tabs and chords
Submit Bruno Mars guitar tabs here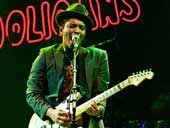 The songs of Mars Bruno contain a lot of influences from genres like rock, reggae,R&B, soul and hip hop. Having said that, he still has his own style so learning these Mars Bruno guitar tabs should not be that hard. A bigger problem if you don't find it easy is to copy his falsetto voice.
Bruno is a happy and optimistic artist when if comes to lyrics. He know how to melt a girls heart. With a guitar and these Mars Bruno guitar tabs you can give it a try to. His Hawaii influences can also be heard in his original music
Bruno Mars bass tabs