Lynyrd Skynyrd tabs and chords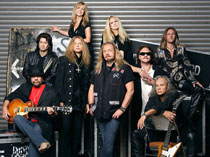 Lynyrd Skynyrd, one of the oldest bands that is still alive and rocking. The band saw the light of day in 1964 and soon got worldwide fame for their easy-to-like guitar orientated music. You will find the Lynyrd Skynyrd tabs to all the hits here.
Band members have been in and out of the band and the complete list of members and ex-members count 25. The music has always been the same and is today liked by all generations. With sing-along lyrics and catchy riffs as seen in the Lynyrd Skynyrd tabs and chords here, the band will be heard at parties, pubs and on radio in many years to come.
Lynyrd Skynyrd guitar tabs and chords
Submit Lynyrd Skynyrd guitar tabs here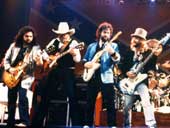 Gary Rossington is today the only original member of the band as he has been in Lynyrd Skynyrd since 1964. He does both lead and rhythm guitar in the band and is one of the brains behind one of the best guitar solos ever, the finale on their song "Free bird". You can see the complete Lynyrd Skynyrd guitar tabs to it below.
Rossington has used Gibson Les Pauls and a Gibson SG throughout the years but feel free to use whatever equipment you like when playing these Lynyrd Skynyrd guitar tabs
Lynyrd Skynyrd bass tabs
Submit Lynyrd Skynyrd bass tabs here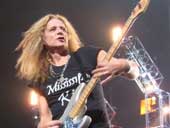 There has been seven bass players in the band, including guitarist Ed King why handled the four-stringer for a short period in the early seventies. This means a whole lot of playing styles so feel free to add your own interpretation when learning these Lynyrd Skynyrd bass tabs.
Although the bass players has been in and out of the door the music has always been Southern state rock. A style that is really fun to play on guitar and bass. Hope you will enjoy our collection of Lynyrd Skynyrd bass tabs.