Linkin Park tabs and chords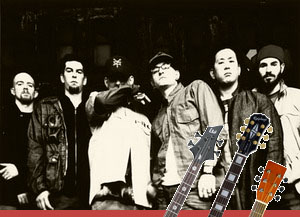 Linkin Park, honoured by Billboard music awards with a price, is a rock band from Agoura Hills, California. Learn to play guitar in the style of Mike Shinoda and Brad Delson. Learn riffs and chords from Burn it down, Iridescent and other songs with our Linkin Park guitar tabs.
Linkin Park, Dead by Sunrise and Jay-Z belong in the same music categories simply called Alternative rock and rap rock. Linkin Parks own place in cyberspace is at linkinpark.com. They have been around since 1996 with songs like Minutes to Midnight, Hybrid Theory plus many more.
Linkin Park guitar tabs and chords
Submit Linkin Park guitar tabs here
Linkin Park bass tabs